The 360 Film Festival first Edition open its calls for entries for VR and 360 contents ! The 360 Film Festival is an international event that showcases independent 360° and VR content, aiming at promoting discovery, creativity and networking.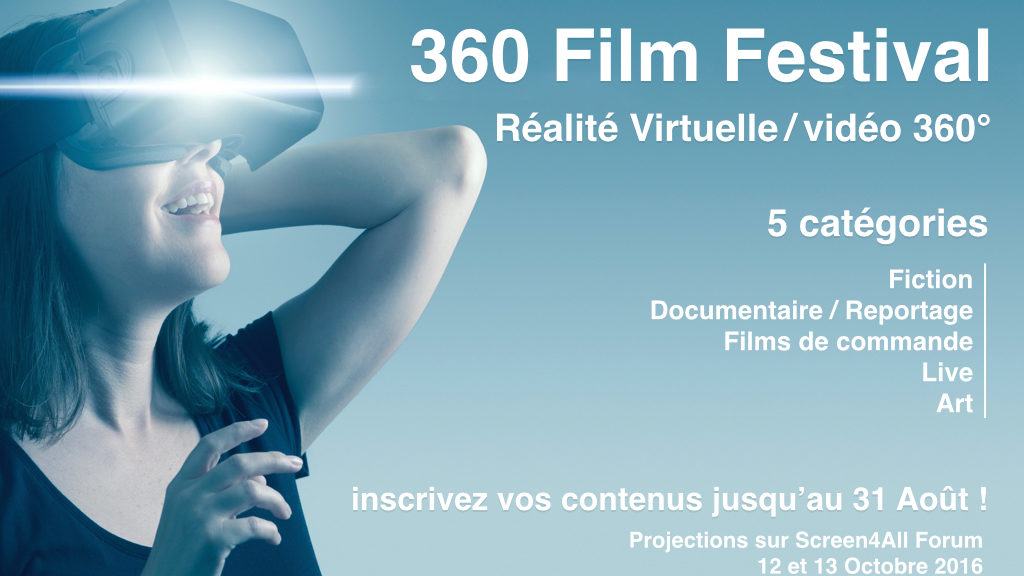 The most successful VR experiences in terms of storytelling and technical performances will be selected and shown during Screen4ALL Forum* on October 12th & 13th, 2016 and awarded at the closing ceremony on October 13th.
Producers and directors can enter their films in one of the 5 following categories:
FICTION
DOCUMENTARY / REPORTING
COMMERCIAL FILMS (advertising, corporate films, music videos)
LIVE EVENTS
ART FILMS
A qualified Jury, composed of experts from all over the world, will make a first selection, and will then award one prize for each category along with a Grand Prix.
Selected contents will be available on a secured online platform from September 27th till October 15th and will be shown on site during Screen4ALL Forum* at "L'Usine St-Denis", (in front of Stade de France, just outside Paris, France), next October 12th and 13th .
Paris-based studio Neotopy will be in charge of Festival's VR screenings on site: its Neocine VR technology can synchronize up to 60 VR headsets, giving viewers the ability to experience content simultaneously and collectively. Neocine VR also supports 3D sound with head tracking, for an even more immersive experience.
Save the dates !…
August 31th :Call for entries to the 360 Film Festival closes
September 27th :Online screenings for the 360 Film Festival begins
October 12-13th : Films are screened on the 360 Film Festival, during Screen4All Forum*
The Festival will take place on October 12th and 13th, 2016, during Screen4All Forum* in l'Usine Saint-Denis
To Follow Screen4ALL on Social Networks:
Facebook : Screen4All / Twitter : @Screen4allforum / LinkedIn : Groupe Screen4ALL
*About Screen4All Forum
Screen4ALL, a forum for digital technologies and new uses in the audio-visual industry, takes a future-oriented look at funding, producing, creating and distributing content in the film, television, communication and new media industries. Taking place on October 12 and 13, the 2016 meeting will offer an overview of disruptive innovations and usages with an emphasis on 3 topics:
ULTRA HD
360°/VR IMMERSION
NEW PROFESSIONS AND PRACTICES IN THE DIGITAL INDUSTRY
Screen4ALL Campus A training course on "New Screens, New Experiences" will feature a series of hands-on workshops with an emphasis on VR/360 production.
To Contact the Festival team for more information : 360filmfest@screen4all.com
…To get a bunch of other relevant informations regarding digital innovations – and also to develop your network – join Screen4ALL Forum in October for a 2-day overview around 3 topics :
360° VR IMMERSION
NEW PROFESSIONS AND PRACTICES IN THE DIGITAL INDUSTRY
ULTRA HD
Screen4All also offers a 5-day training "New screens, new experiences" (supported by the Creative Europe program) and The 360 Film Festival…
For more information, please visit : www.screen4all.com