The 38th edition of the SATIS-Screen4All, 3rd edition organized by Génération Numérique, is in the box! During 2 effervescent days, SATIS highlighted innovation and creation more than ever. The three Halls of the Paris Docks have been surveyed by an increasing number of professionals from the film, audiovisual, media, communication and integration industries. Thanks to the implementation of a second networking space and a dedicated mobile application, exchanges and networking have broken records!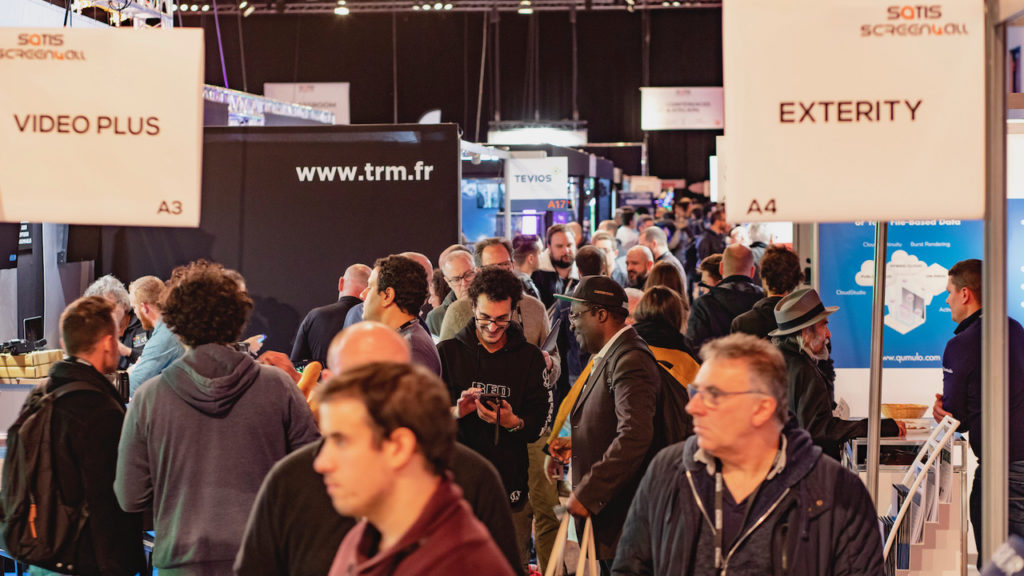 A few figures:
9652 visitors ( +8% vs 2018)
165 exhibitors and partners ( +10% vs 2018)
5200 auditors ( +30% vs 2018), on more than 50 panels, keynotes, classrooms and workshops
19 products and services and one project awarded with the SATIS/Mediakwest Awards
An honorary prize awarded to Claude Lelouch
10 immersive creations awarded by the 360 Film Festival
The 2019 edition consolidates each of the pillars of the show:
A unique exhibition presenting exclusive products and new manufacturers presented for the first time at a French-speaking exhibition
Series of Panels and workshops on all issues related to the audiovisual industry, the media and entertainment – with the participation of 220 experts from the audiovisual value chain…
A unique and essential international networking event, at the heart of the largest French-speaking exhibition dedicated to Image and Sound Technologies.
A showcase of innovation at the service of creation, notably thanks to the 360 Film Festival… Having received more than 140 experiences contained in AR, VR and Large Formats from 27 countries, this Festival offered more than 300 sessions with free access over 2 days.
In order to support the Audiovisual Community throughout the year, the SATIS-Screen4All website will be regularly updated with news (conferences and keynotes online, followed by the winners of the SATIS-Screen4All Awards and the 360 Film Festival) … Sign up for the exhibition newsletter to stay informed!
From now on, note in your diaries the next edition of the SATIS-Screen4All
November 3 & 4, 2020
Docks of Paris – Plaine Saint-Denis
SATIS – SCREEN4ALL in short…
– A 5000 m² exhibition – 3 Halls, more than 160 exhibitors and partners…
Our partners 2019 > https://buff.ly/2ZJnaO3
– The 360 Film Festival fourth edition, a showcase for immersive contents (70 contents presented in 2019)
The Festival takes a new turn by rewarding the Technique, usually forgotten of the Festivals dedicated to immersive formats.
Discover the 360 Film Festival in detail > https://buff.ly/2NM0wSE
– More than 50 panels and Keynotes with the following key topics:
Production Trend – Production & Live – Production Optimization – Breakthrough Innovation (5G, 8k, Blockchain, IA…) – Immersive Formats – Audiovisual Integration – Audio – Images
>> Topics covered in 2019: IP Workflows & New Uses • Creation & Technology • Contents: Monetization Financing • Blockchain • New Cloud Applications • Social Networks • 5G • Artificial Intelligence & Media • 4k • 8k: Very High Resolutions • Hf in Shooting (Picture And Sound) • Live Event • Content Protection • Crowdfunding • Immersive Universe: Vr. Ar. • Mapping • Collaborative and Interactive Collaboration • Unified Communication • Digital Signage • New Screens • 3D Engine Real Time • LED Lighting • Intelligent Storage • Volumetric Video
…With 200 speakers representing the entire audiovisual value chain!