The winners of the fourth edition of the 360 Film Festival reflect the great vitality of digital creation in the immersive worlds of VR/AR/Grands Formats... The Festival received more than 140 creations from 27 countries and the Jury made its choice among 31 contents selected in official competition...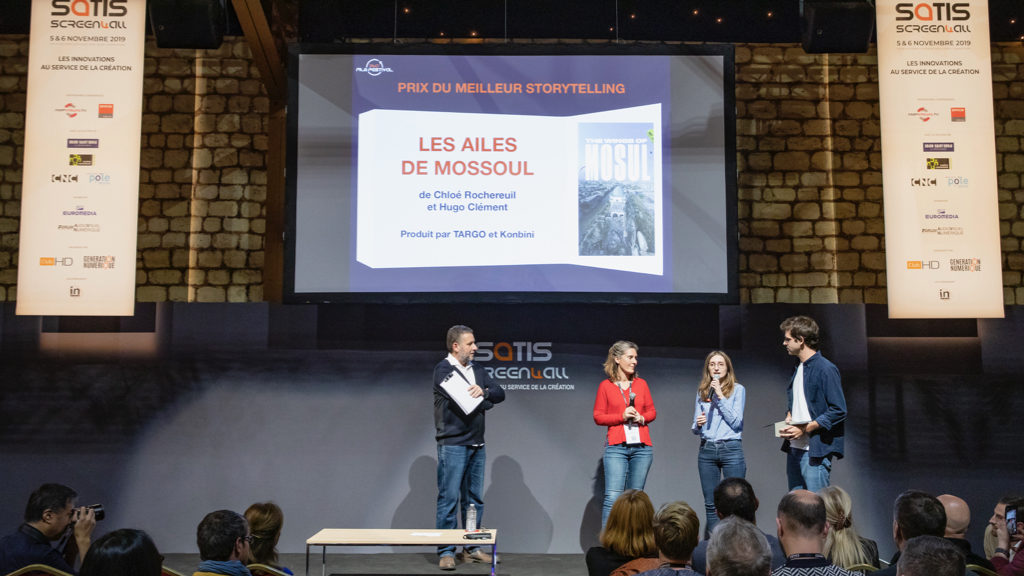 The quality of the creations being especially at the rendezvous of this 2019 Festival, the Jury, chaired this year by Gérard Krawczyk, and the Maison des Scénaristes (which awarded the Prize for Best Storytelling had to deliberate a lot… To award his 11 prizes, the jury first and foremost took into account the technical quality at the service of narrative, in accordance with the festival DNA…
The 360 Film Festival's winners were unveiled at an awards ceremony on November 5 at the heart of SATIS, on the first day of the show….
The Palmares 2019!
GRAND PRIX VR awarded to "The Scream" by Sandra Paugam and Charles Ayats
This experience dedicated to a major artistic work allows us to discover or rediscover the very essence of the painting by immersing ourselves as an actor, a spectator in the heart of the emotions transcribed by Edvard Munch's painting…" This experience offers us a total immersion. I loved it! I learned things and I almost wanted it to go on forever! " emphasizes Mauna Traikia, member of the 2019 Jury…
Produced by Fabienne Servan-Schreiber and David Bigiaoui from Cinétévé / Duration: 15 min / Year: 2019 / Country: France
GRAND PRIX AR awarded to "Insurrection 1944" created by RealCast
A visit to the heart of the bunker where the start of the Paris uprising was organised… A great success of museum mediation that allows visitors to stroll through a place steeped in history by assuming the role of a reporter following a young soldier. The experiment, which combines scanned actors and spatialized sound, is a success from an audiovisual point of view.
"With a capacity of about ten people, this experience will work very well with schools. The group approach, which allows about ten visitors to discover the places at the same time, is quite effective. Visitors can be welcomed and managed by a single person, which is very interesting in economic terms," says Oriane Hurard.
Produced by Paris Musées / Duration: 25 min / Year: 2019 / Country: France
GRAND PRIX LARGE FORMAT awarded to "Aróra" by Tommy Caron and Sarah Ouellet
This dome projection brings us to a rare experience: seeing the magnificent Northern Lights while addressing the scientific aspect of their creations to the mystical explanations of the people around them.
Combining real life photography and animation, we discover this natural spectacle on Earth as well as on the other planets of the solar system. A real treat for all ages!
Produced by Maryse De Lottinville of Studio Montréal / Duration: 21 min / Year: 2019 / Country: Canada
JURY SPECIAL MENTION attributed to "Decalomania" by Siyeon Kim
"A UFO with many beautiful surprises and an unexpected register that combines several narrative forms," says Gérard Krawczyk.
Produced by Seoeun Park / Duration: 33 min / Year: 2019 / Country: South Korea
PLAINE COMMUNE FAVOURITE CHOICE awarded to "East of the Rockies" by Joy Kogawa
"East of the Rockies" is a perfect response to the values that Plaine Commune defends : the use of innovation in the service of culture, history, mediation, pedagogy and education… Joy Kogawa manages to transport us into a totally unknown part of the history of the Second World War thanks to Augmented Reality and allows us throughout the world and for all ages, to teach the youngest and least of a very successful interactivity.
Produced by National Film Board of Canada, Jam3 / Running Time: 40 min / Year: 2019 / Country: Canada
360 FILM FESTIVAL PRIZE, BEST STORYTELLING awarded to "The Wings of Mosul" by Chloé Rochereuil and Hugo Clément
"The Jury of the Maison des Scénaristes was won over by the accuracy of the story. Following the reconstruction of Mosul through a team of hang-gliders who can finally relive their passion after years of war and oppression by the Islamic state has deeply affected us. Moreover, the use of 360 video is totally justified and you feel completely immersed in this destroyed city that its inhabitants want to rebuild. "says Sarah Gurevick.
Produced by TARGO and Konbini / Duration: 11 min / Year: 2019 / Country: France
360 FILM FESTIVAL PRIZE, BEST INTERACTIVITY / INTEGRATION & 360 FILM FESTIVAL PRIZE, BEST IMMERSION awarded to "Are we dead?" by Virtual Room
This game which could seem long since its duration varies from 45 min to 1:00 is extremely exciting and fluid…" It is very interactive and offers such an immersion that you can easily get caught up in the action from beginning to end and you don't see time passing! ", comments Stephane Juffé, member of the Jury.
Produced by Virtual Room / Duration: 55 min / Year: 2019 / Country: France
360 FILM FESTIVAL PRIZE, BEST IMAGE awarded to "2nd Step" by Joerg Courtial
"The production is a success and it is also one of the few works in competition to have been produced in stereoscopy. The quality of the image is perfect, the mapping of the faces and the moon are very effective and the work takes us on an extraordinary journey on the planets, opening the doors of a universe inaccessible to the common man. ", explains Alexandre Regeffe.
Produced by Maria Courtial from Faber-Courtial / Duration: 11 min / Year: 2018 / Country: Germany
360 FILM FESTIVAL PRIZE, BEST SOUND awarded to "Accused #2" by Nicolas Champeaux and Gilles Porte
"Here sound is simply the founding element, the backbone of this experience, which is based on sound recordings from historical archives. The immersive audio environment developed from these mono sources recorded in 63-64 is simply remarkable and the result is very moving…", comments Lidvine Ho
Produced by Jérémy Pouilloux, Alexandre Hallier from La Générale de Production / Duration: 11 min / Year: 2019 / Country: France
360 FILM FESTIVAL AWARD, BEST ANIMATION awarded to "Toyland" by Jonathan Astruc's
"This experience, which is inspired by Toy Story, is first and foremost seductive because of its multi- generational approach. Designed for LBEs (Location Based Entertainment), this experience is fun and full of surprises, a great success, certainly! " emphasizes Stéphane Juffé.
Produced by ILLUCITY, Backlight / Duration: 25 min / Year: 2019 / Country: France
In addition to the 31 works selected for the competition, the 360 Film Festival offers to discover, since yesterday and today at the SATIS Show, nearly forty out-of-competition experiences to illustrate the diversity of the creation of immersive formats. Among these creations, 19 are world premieres at festivals…
VIDEO 360
– Dans la Lune by Marc Caro, France
– La Stanza di Hermann by Antonio Librera, Switzerland
– Decalcomanie by Siyeon Kim, South Koréa
– The Drive by Adia Ivey and Jewel Ifeguni, USA
– Mare Nostrum – The Nightmare by Stefania Casini and Pascal Hanke, Germany
– Les Ailes De Mossoul by Chloé Rochereuil and Hugo Clément, France
– Monet the immersive experience by Dirty Monitor, Belgium
– Paris Mayday by SputnikNews, France
– Tonnerre de Zeus by Yseult Berger, France
– Valeo Beyond comfort by Mohamed Marouene, France
VR
– Are we dead? from Virtual Room, France
– Quantum from Studio Moebius, France
– Toyland from Illucity, France
AR
– Bois Jacques Bastogne by Vincent Burgevin, France
– Insurrection 1944 by Diego Fernandez-Bravo, France
– Minuscule AR by Romain Bonnin, France
LARGE FORMAT
– Commémorations du centenaire de la grande guerre 14-18 by Dirty Monitor, Belgium
– Les Nuits Lumière 2019 de Bourges by Cosmo AV, France
– Mission to the Stars by Rosemary Alexander-Jones, United Kingdom
Discover the members of the Jury & the 2019 selection here…
Save the Dates of the next 360 Film Festival…
May 25, 2020: Opening of the 360 Film Festival call for content
September 21: Closing of the 360 Film Festival call for content
September 28: Deadline for sending content
October 8: Announcement of the selection
November 3rd: Award ceremony
November 3 & 4, 2020 : Broadcasting of the contents selected by the Jury on the "360 Film Festival" area of the SATIS-Screen4ALL.